Tampa Bankruptcy Law Office Locations
You want a fresh start for your life and your finances. You are ready to take control of your fiscal well-being, and you are looking toward a future that will bring financial freedom. At Clark & Washington, we are here to help you realize your financial goals. We believe everyone should be given the opportunity and the means to pull themselves out of a financial bind.
In order to make helpful, honest legal counsel more accessible to those considering filing for bankruptcy in Tampa, Clark & Washington maintains eight locations in Tampa and throughout Central Florida. Here, anyone can come in and speak with a Tampa bankruptcy lawyer to initiate a plan for their future, whether or not it involves filing for bankruptcy.
We understand the stress and worry that comes with financial crisis. Clark & Washington will walk you through every step of your Tampa bankruptcy case so that you do not have to face this difficult time alone. With eight locations in the Tampa area and a host of friendly, knowledgeable Tampa bankruptcy lawyers, Clark & Washington offers you the support you need for a fresh start.
Call or e-mail any of our locations and set up your free consultation with a Tampa bankruptcy lawyer. This one step can get you started on the path to a new beginning, free from debt.
Brandon Bankruptcy Law Office

Florida Career College
9950 Princess Palm Ave.
Registry Two, Suite 309
Tampa, FL 33619

Office Phone: (813) 793-6074

Greater Carrollwood Bankruptcy Law Office

4218 W. Linebaugh Ave.
Tampa, FL 33624

Office Phone: (813) 792-4977

Clearwater Bankruptcy Law Office

2288 Drew St., Suite A
Clearwater, FL 33765

Office Phone: (813) 792-4977

Lakeland Bankruptcy Law Office

111 South Florida Ave., W.F. Johnshon Bldg.
Lakeland, FL 33810

Office Phone: (863) 614-1383

New Port Richey Bankruptcy Law Office

4821 US HWY 19
Suite 3
New Port Richey, FL 34652

Office Phone: (727) 466-4424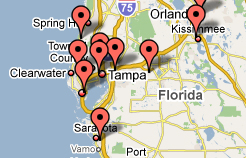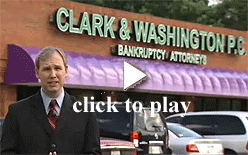 Contact Information Form